Scientists find key to malaria growth
The key to malaria's rampant growth has been explained by scientists. They say it is down to protein molecules called cyclins which cause cells to divide rapidly in the malaria parasite.
The study, led by a team from the University of Nottingham, could lead to new treatments for malaria, the researchers said.
Malaria is responsible for nearly half a million deaths a year. A cyclin is one of the most important protein molecules needed for cell division.
 They have been well studied in humans, yeasts and plants – but until now, little has been known about cyclins in the malaria parasite and how they affect cell development.
This research, published in the journal PLoS Pathogens, has been able to classify the number and type of cyclins present in malaria parasites.
Dr Bill Wickstead, from the University of Nottingham's School of Life Sciences, identified three different types of cyclin genes in the malaria parasite.
This is far fewer cyclins than are present in humans – and compared with other sets of cyclins, he said, they caused an "exciting type of cell division".
Prof Rita Tewari then carried out an in-depth analysis of a cyclin in the malaria parasite to find out more about what they do and why they do it.
She worked out that the cyclins found in malaria parasites made cells divide very quickly and enabled them to spread quickly in blood cells.
Working out why this happens could aid understanding of how the malaria parasite thrives within the mosquito and its human host, and lead to new treatments.
Dr Magali Roques, lead author of the study, said the research "will definitely further our understanding of parasite cell division, which I hope will lead to the elimination of this disease in the future."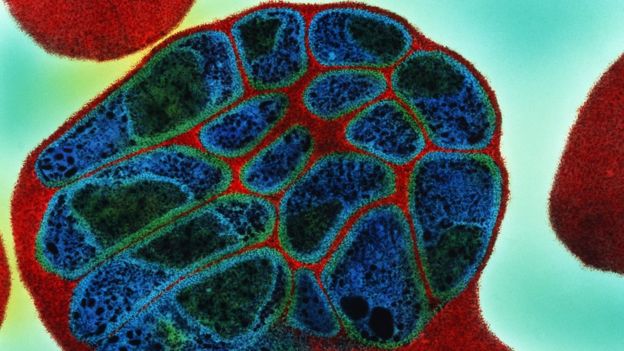 Nothingham UNiversty UK
June, 21, 2018
Madaxweyne Farmaajo ayaa la kulmey madaxda IGAD shirka ...
June, 21, 2018
Kuruesha ayaa hilfaha u qaaday xulka qaranka Arjantiin ...
June, 21, 2018
Bahda Araabinews ayaa hambalyo u diraya lamaanaha Maryan ...
June, 21, 2018
Maamulka Muuse Biixi ayaa si adag uga qayliyay ...
June, 21, 2018
Suldaanka Faysal Waraabe ee isrogroga ayaa taageeray shirka ...
June, 21, 2018
Bahda Araabinews ayaa hambalyo u diraya lamaanaha Maryan ...
June, 13, 2018
Wahaabiyada Sucuudiga iyo Imaaraadka oo Maraykanku cirka ka ...
May, 25, 2018
Dadkii duufaantu ku dhufatey ee degmada Baki ee ...
May, 19, 2018
Cabdiwelli Gaas ayaa wuxuush ku tilmaamey maamulka Muuse ...
May, 17, 2018
My name is Sara, and I'm newly reverted. ...
May, 14, 2018
Ceerigaabo ayaa dadku ka kacay markii Jeegaantu wada ...
April, 25, 2018
Baxsaneey ARAABAAY waa hees mardhow daawaha laga soo ...